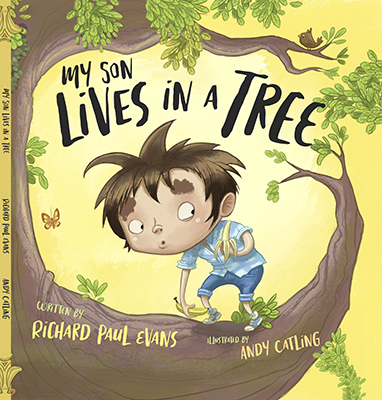 "Some of my most profound writing is found in my children's books…"
What will a father do when his son is mistaken for a monkey? What won't he do?
I thought it was a nice day to take my family to the zoo. How could I have known what horrible thing was going to happen? Now questions arise. Will my son find a new and hairier family? Will he get fleas? Do bananas and monkey chow make for a balanced diet? Most important, will he ever come home?
In this touching, original board book from #1 New York Times bestselling author, Richard Paul Evans (Illustrated by famed British artist, Andy Catling), a father shows just how far he'll go to bring his son home. My Son Lives in a Tree is a humorous and poignant look at the love between parents and children. The children and grandchildren in your life will want you to read it over and over.
My Son Lives in a Tree
To my son, Michael. I will always fight for you.
A week ago, (Or maybe two),
I took my family to the zoo
The day was nice,
The sky was blue.
It seemed to me the thing to do.
No sooner there, I heard a shout,
"Someone's let a monkey out!"
I looked to see
Who caused this fuss.
The shouter pointed right at us!
And then the keeper of the zoo,
Did what it is, that keepers do.
He grabbed my son
(that rotten louse!)
And locked him in the monkey house
And though I stomped,
And yelled with rage
They would not let him
from the cage.
(go ahead and turn the page)
#free the boy, I wrote online,
You cannot have this son of mine!
I'll call my lawyer and the news!
Grown boys do not belong in zoos
I fought for him, both tooth and nail,
To free him from that monkey jail,
But nothing I did seemed to help.
(I left a bad review on Yelp!)
So, every day I went to see
My son up in that monkey tree.
Hoping that I'd get a glimpse,
Of boy amidst those smelly chimps.
And then one day,
My son dropped by,
Swinging wildly from the sky.
To my surprise he looked just fine,
Clinging to a ropy vine.
Don't worry Dad, my son did say,
It's not so bad, I want to stay
"In here I do just as I please,
I spend my days up in the trees
and swinging with a hairy bunch
(we eat bananas for our lunch)
No mom or Dad (not anymore)
To tell me not to slam the door
Or wipe my feet or eat my peas
For snacks my friends pick out my fleas.
No "where's your homework?"
"How's those grades?"
"No going out 'til beds are made!"
So, thank you Dad,
But I'm just fine,
I gotta go, here comes the vine.
And that is how it came to be,
My son now living in a tree
I still don't know
When he'll come home
And that is why I wrote this poem
For though he says, 'It's lots of fun,'
It's not for me,
…I miss my son.
©2021 Richard Paul Evans
It was almost fifteen years ago my little boy, Michael, was in the hospital for nearly a month. The doctors didn't know how to help him and we didn't know when our boy was coming home. It was the worst summer of my life. The first day I walked out of the hospital, I was so upset that I threw up. Every time I left him, my son would wait at his second-story window to watch me go. I would drive around the parking lot twice and honk and wave at him before leaving. It was our special ritual.
One of those difficult days, while driving to see my son, this poem came to me in a flood of inspiration. At the time, I didn't understand why. My daughter did. When I shared the poem with her, she said, "Dad, you know why you wrote that, right? It's really about Michael."
This is the poem that came to me.
Published September 22, 2023
Ascendt Publishing
Length: 32 pages
ISBN: 97817376402022
About the Illustrator | Andy Catling
Andy Catling is a professional illustrator with more than 50 illustrated titles under his belt. He has worked for many publishers such as Oxford University Press, Caterpillar books, Quarto, Harper, Lion Hudson and others in the UK and around the world. Andy loves illustrating Picture books and books for older children using a more mature style. He works in traditional mediums and digital wot-nots to make artwork with a rigorous mangle-like process.
If a story has dragons, knights, pirates, monsters or the like, then Andy will want to illustrate it!
Newsweek
The most popular holiday tale since Tiny Tim.
Mary Higgins Clark
The true miracle of The Christmas Box is in the thousands of spirits it has lifted and the hearts it has healed.
The Washington Post
THE CHRISTMAS BOX has touched something in people who must deal with the loss of a child.
USA Today
Speaking directly to parents who have lost children, this bestseller also crystallizes a national yearning for family in these fragmented times.
Barnes & Noble
This inspiring holiday tale tells the touching story of a widow and the young family who moves in with her, and the ways in which they discover together the first gift of Christmas and what the holiday is really all about. Written by the author as a token of affection for his daughters, The Christmas Box has captured the hearts and minds of over a million readers.
Jill Heatherly
Amazon.com Review
This tiny treasure will cause you to rejoice in the blessings of the season while stirring up a childlike vigor as old profundity is revealed anew. In a season often shrouded in selfishness and materialism, Evans reminds the reader that the only way that we can genuinely love one another is by accepting the greatest gift of love ever given–that of a Father who "so loved His children that He sent His son, that we might someday return to Him.